¡¡
Texas A&M Green Roofs in the News
The new green roof on Langford has received press!
TAMU Times http://tamutimes.tamu.edu/2013/05/09/green-roof-project-brings-earth-to-sky-at-texas-am/.
KAGS News http://www.youtube.com/watch?v=ofOMMLC-INU
Brazos Valley INSITE http://www.insitebrazosvalley.com/featured-articles/2013/6/25/thursday-july-insite-magazine-launch-party.html
TIME for KIDS http://www.timeforkids.com/photos-video/video/roof-90096
Archone e-news http://one.arch.tamu.edu/news/2012/12/10/green-roof-project/
May 7, 2010 at 10 AM - Horace's Duskywing - Erynnis horatius found on Delosperma cooperi
This North American native butterfly was observed feeding on the bloom of this Ice Plant. It was a breezy morning and the butterfly had to make several attempts to take off from the roof and maneuver onto the plant to feed. It remained on the plant feeding for several minutes. This was the first observance of a butterfly on the green roof modules.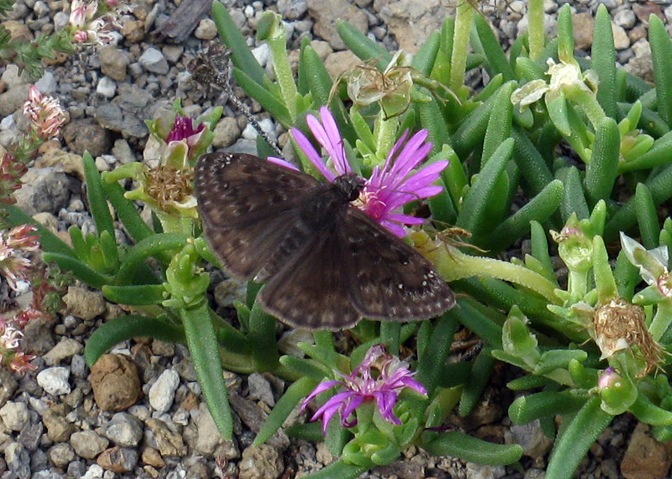 (photo credit Bruce Dvorak, 2010)
¡¡
March 5, 2010 - Green Roof Research is expanding from 12 to 24 modules.
View installation video at http://vimeo.com/14587456
Monthly measurements will be taken to monitor growth rates for 9 new species of plants. New species under investigation include Sedum moranense, Bulbine Fruitescens, allium senescenes glaucum, album murale, Lampranthus ¡®Red Shift¡¯, Delosperma ¡®Lavender Ice¡¯, Delosperma nubigenum ¡®Basutoland¡¯, Malephlora lutea, and Sedum mexicanum.
¡¡